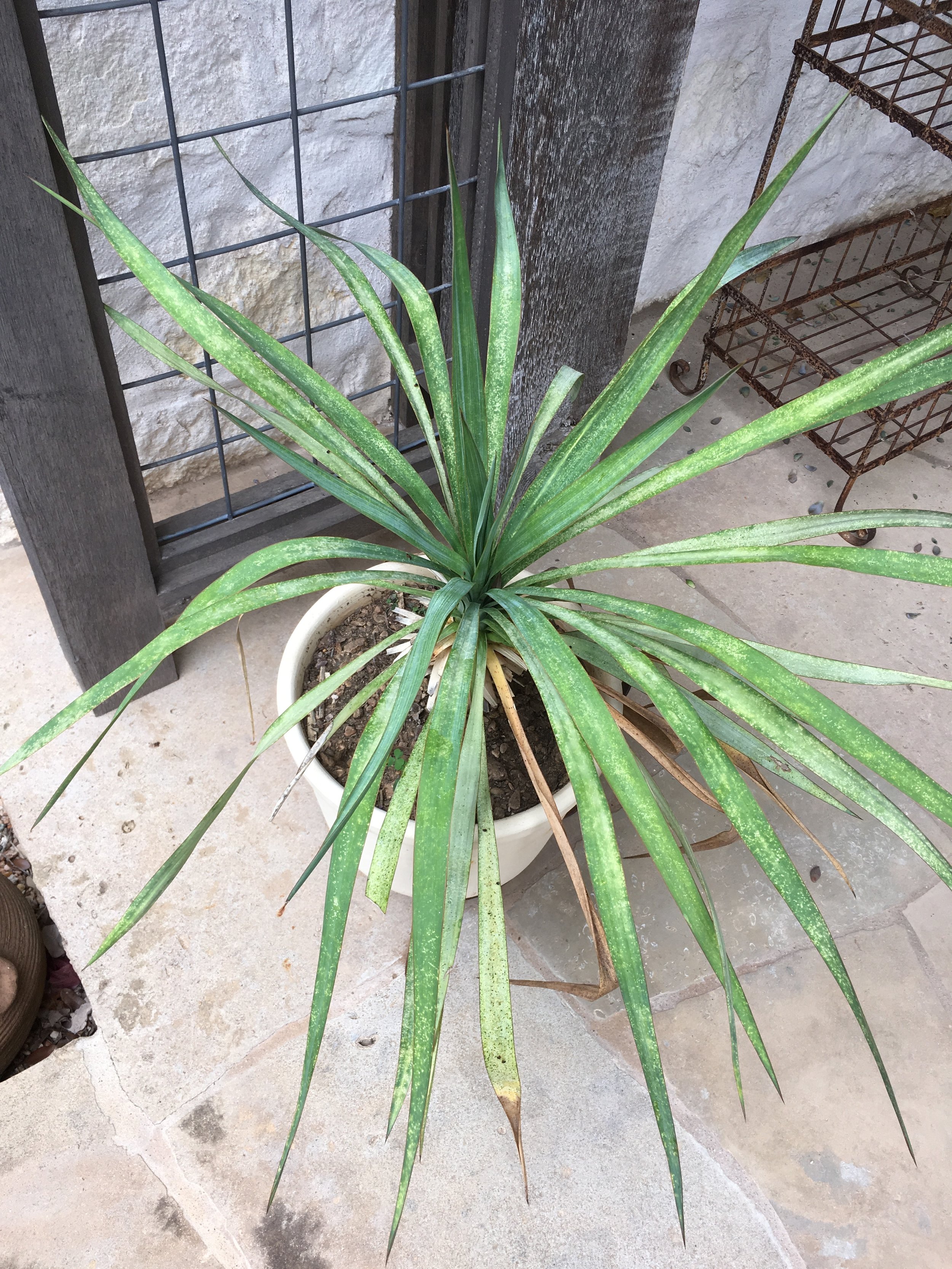 Dear Delta Dawn,
We have a yucca in a pot by our front door that may be dying. It has some sort of bug infestation. The leaves have spots and are turning yellow. It has been in this pot for at least five years. This location gets a lot of afternoon sun because the porch faces south. What should I do? Are the bugs killing the plant?
- Sally, Austin, TX
Dear "Sally,"
Ok, full disclosure, this was a question posed to me by a client this week and not an actual submission to #SadPlantSunday. (I did not receive any submissions last week. Patiently awaiting your plants' tale of woe.) In any case, this softleaf yucca (Yucca recurvifolia) is a good Sad Plant example because it brings us to the subject of our oft-maligned invertebrate friends, the insects.
Let's take a look at this bug. Excuse the blur. This guy was small and fast.
I couldn't find it through the search tool on Bug Finder, so I just googled "bug on yucca plant," and the top result was the aptly-named Yucca Plant Bug (Halticotoma valida). Taxonomically classified a "true bug," Yucca Plant Bugs eat by sucking rather than chewing. According to Rodale's Color Handbook of Garden Insects, true bugs "pierce the epidermis of the leaf with their beaks, inject salivary fluids into the tissue, and draw out the partly digested cell sap." Weird! The Yucca Plant bug is one of many "host-specific" insect species, meaning that it evolved to dine on this particular plant. (Prickly pear cacti have similar host-specific bugs and scale insects, which I will cover sometime in the future.) Connecticut's agricultural extension site notes that damage from the Yucca Plant Bug is characterized by "yellow, stippled new foliage," which we definitely have. It's kind of beautiful, actually, like a close-up of a Georges Seurat:
Now that you have identified your bug, you should go to Home Depot and stock up on pesticides.
JUST KIDDING! Please don't do that. Pesticides/Insecticides are rarely necessary in the garden and frequently make plant problems worse by destroying "good" and "bad" insects indiscriminately -- killing off both pests and the beneficial insect species that naturally keep pest species in check. The majority are toxic, expensive, sold in greater quantities than you'd ever use, and again, straight-up unnecessary. There are some organic/non-toxic options (neem oil, dormant oil, diatomaceous earth, insecticidal soap) that are useful in fruit and vegetable growing, but I rarely use them on ornamentals. Plants are pretty good at defending themselves when they're healthy. As long as they have good soil, room to grow, and the right amount of air and water, bugs and diseases aren't usually a problem. Unhealthy plants become susceptible to diseases and predation. In other words -- and get ready, because this is deep -- this yucca isn't sad because it has bugs, it has bugs because it is sad. Insecticides won't cure the "root" sadness, because the real source of the trouble is beneath the soil. We must plumb the depths.
Because the plant hasn't been repotted in five years or more, we can be fairly certain this yucca is pot-bound. Indeed, when removed from the pot, its roots are circling and filling the pot as it struggles to survive in a too-small space. The root ball is a dense cluster of rhizomes (fleshy, potato-like roots) and dead, desiccated root fibers, which indicate that the plant has been in this pot for too long.
Another thing I notice after shaking the root ball loose: the soil in the pot does not appear to be potting soil. It seems like a mixture of topsoil and sand. That would be an OK planting medium for a yucca in the ground, but container plants need special, fluffy soil in order to promote air circulation and prevent soil compaction. Packaged potting soil usually contains perlite (lightweight flecks of extremely porous volcanic glass) as a soil-fluffing ingredient. There is no perlite or fluffing agent here, and much of the soil is very dry bone-dry and compacted.
The last photo above shows a close-up of healthy white root fibers. Signs of life! This plant can likely be restored to health by eliminating all the Yucca Plant Bugs and repotting in a larger container with good-quality potting soil.
Most of the bugs dispersed when I took the plant out of its pot. But to be extra sanitary, I will trim back the dead leaves on the stalk and wipe off the living leaves with my gloves. This should take care of any eggs. A hard freeze this winter will finish the job.
One special note about repotting yuccas, agaves, aloes, succulents, and cacti: they require a little rest ("hardening off") before going to their new home. As desert natives, these plants store lots of water in their stems and roots, and the inevitable cuts and tears that occur during transplanting can invite fungal problems if the plant is immediately put into soil. Giving plant a few days of fresh air will allow any wounds to callous over, and from these calluses new roots will grow. These plants can live for weeks or even months out of the ground!
After a 3-4 days hanging out on the patio, the yucca is ready to repot. It will spend a period of convalescence in the "plant hospital" on my patio. (I borrowed the concept of the plant hospital from a nursery I used to work for. Side yards and other rarely-viewed spaces make good locations. During winter I utilize the dead space next to my A/C unit for rejuvenating sad plants.) In its new, larger pot, filled with my favorite succulent potting soil (Thunderhead Cactus mix from Geo Growers) and a dash of granular organic fertilizer, this yucca has a great chance of survival.
New growth will come from the top of the plant; the damaged leaves will not recover. So I've removed the bottom layer of foliage. Some leaves should stay on so that the plant can photosynthesize.
In six months I expect the yucca will be back in condition for prominent display at my client's house; in the meantime, I potted up a red yucca (Hesperaloe parviflora) to prettify her entryway.
Softleaf yuccas can get quite large (six feet or more in these parts) so I'd like to put this one in the ground next fall and see if we can get it to bloom. A yucca in bloom, with its gorgeous spray of teardrop-shaped flowers, always stops me in my tracks.
Which brings us back to the subject of our insect friends. Yuccas rely on a specific species, the Yucca Moth, (Tegeticulla yuccasella) for pollination, while the moth relies on the yucca for food. Coevolving for tens of millions of years, each depends on the other for survival. This special symbiotic relationship is just one tiny dot of color in the grand picture of nature's web of life -- and a beautiful reason to ditch the insecticides.
I'll post some photos of the plant's progress a bit later.